.@damiengwalter I don't think of Twitter as home. I think of it as the neighborhood my home is in, and I walk around talking to neighbors.

— John Scalzi (@scalzi) September 13, 2014
I was intrigued by the "Draw Your Own Map of the Internet" project, and moreso when it became a Daily Create. But it was this tweet from John Scalzi which really led me to get out a piece of paper and make my own.
(Oh. There's a template. And it's landscape, but I worked in portrait orientation. Oh well.)
This is a riff on Saul Steinberg's View of the World from 9th Avenue.
That's why it's in portrait orientation, and a weak attempt  at perspective. It's a personal view of the Internet – not an attempt to reflect what I know about the whole web, but how I think of my place in it. It reflects how I spend my time; it also reflects priorities in the way I use the Internet. (And of course, it reflects the way I wish to portray those things.) It's also, really, a map of the Web, not the Internet. Notice that there's no App Store, that I think of "email" as "the web" and not a separate thing anymore, that there's no Netflix or Amazon Prime (which I watch through my Roku and TV, rarely my laptop or phone), that I don't even think about protocols other that HTTP anymore.
In reflection, I'm a little troubled by the fact that I think of email as my home. That's where I start and end the day, where I'm most reachable but also most secluded. Facebook is the patio table in my yard where most of my socializing happens; Twitter is the birdfeeder on the tree where lots of things fly in and out. Google+ is that really cool swingset over in the corner which hardly gets any use. Notice the "access road" running at an angle from the main highway, which shows the way my friends lead me out to other points on the web – occasionally their web homes, more often through citation.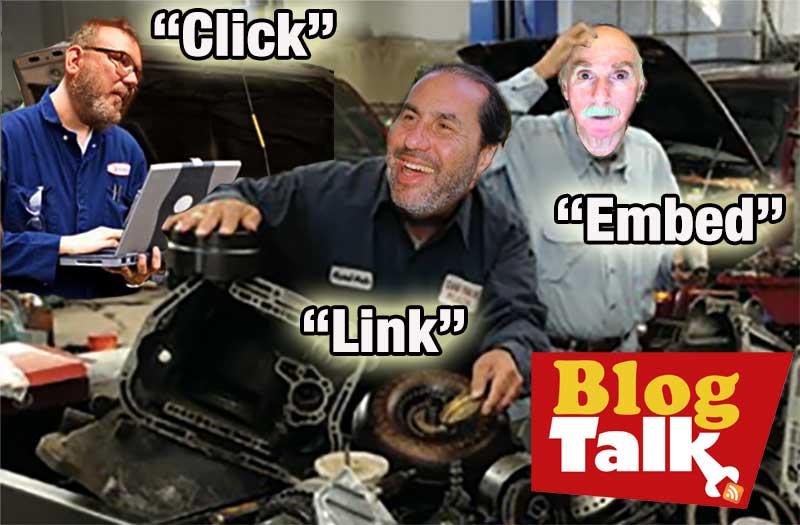 It's probably Click, Link, and Embed's fault that I thought of my webspace on Reclaim Hosting as "the garage". It's the tinkering place, and the place from which I go places. It's adjacent to my home, but it's a detached garage… which may say something about how I think about being "reachable" and "building things"  – or it might only reflect the fact that my real garage is detached. OK, this metaphor is officially beat to death. Sometimes a garage is just a garage.
I dunno why my car is some kind of '70s-'80s land yacht, except that it's probably been that long since I last drew a car.
There's no particular reason that work-y things ended up on the left, and general interests/recreation on the right. It's not like this is a time diary – but these are the neighborhoods which explain how I think about my time on the Web.
Of course, everything leads to Google, and Google leads to everything. Maybe that's Oz, and I should draw little feet under my house.
There's some stuff missing – webcomics ought to be on there somewhere, as should LibraryThing. But it's a reasonable draft, and a fun project to reflect on the way I engage with the web.